Benefits
Protect your product
The DS-21-XL heat seals the bag. Tamper evident.
No box too big to handle
Automatic bag sealing to eliminate non ergonomic manual handling.
Up to 90 c/hour. 
 
Product description
DS-21-XL Bag sealer
The DS-21-XL automatically decuffs, regussets and heat seals the bag. The DS-21-XL handles all kinds of pallet containers (pallet boxes, octabins, wooden crates, wire mesh cages, etc.). 
The automatic bag sealing machine eliminates the non ergonomic manual handling and offers a solid addition to your packaging line.
Optionally a case closing module is available with tape or hot melt or with a strapper.
The DS-21-XL runs up to 90 c/hour (depending on the box sizes).
 
Download Datasheet
Discover the benefits and technical specifications
of the DS-21-XL in one handy datasheet.
Containers
Min. L.800 x W.500 // H.650
Max. L.1400 x W.1300 // D.1500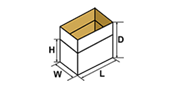 For other dimensions, please contact us.