Benefits
Protect your product
The DF-21-XL guarantees a perfect bag overlap folding to avoid contact between the product and the carton.
No box too big to handle
Automatic bag folding to eliminate non ergonomic manual handling
Up to 90 c/hour
 
Product description
DF-21-XL Bag folder
The DF-21-XL automatically decuffs, regussets and folds the bag. The DF-21-XL handles all kinds of pallet containers (pallet boxes, octabins, wooden crates, wire mesh cages, etc.). 
This automatic bag folding machine eliminates the non ergonomic manual handling and offers a solid addition to your packaging line.
Optionally a case closing module is available with tape or hot melt or with a strapper.
The DF-21-XL runs up to 90 c/hour (depending on the box sizes).
 
Download Datasheet
Discover the benefits and technical specifications
of the DF-21-XL in one handy datasheet.
Containers
Min. L.800 x W.500 // H.650
Max. L.1400 x W.1300 // D.1500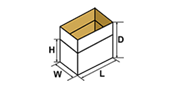 For other dimensions, please contact us.