1. Sharing Know-How
Pattyn strongly believes in knowledge sharing to increase customer satisfaction. To enable this we have developed a digital customer service tool and dedicated customer services:
- Digital customer portal "Pattyn360"
- Customized training suited to your needs
- New retrofitable solutions based on customer input
- Expert advice on PE Film
Pattyn 360 - Your digital customer experience
This online knowledge portal is based on years of experience by Pattyn Service Engineers and additional input from our customers.
Knowledge sharing, available Anytime Anywhere: from your mobile phone or desktop Pattyn360 gives you 24/7 access to service information and documentation:
- Equipment: overview of your installed machines
- Manuals: user manual, your customized 3D spare part manual to identify quickly the right parts
- Support: direct and easy access to support info (how to's, FAQ, functional description, troubleshoot)
- Reports: easy access to your service visit reports and helpdesk calls
Customized training
We offer you customized training to fit your needs, such as operator training, maintenance & technician training, vision & Robot training and much more.
The training can be given on site or at the Pattyn Experience Centre.
New retrofitable solutions based on customer input
We also improve our expertise by listening to input and feedback from our customers. This allows us to develop new retrofitable solutions.
Expert advice on PE film
If you need advice about PE film you can count on the expertise of Pattyn.
Efficiency guarantee requirements: for each Pattyn bag inserter we provide you the film specifications that will guarantee an optimal performance.
Order the right film material and thickness: as raw material price is high and cost reduction is crucial, it's very important to choose the right film material (LDPE, MDPE or HDPE) and the right film thickness for your application.
Make sure your film supplier:
Checks the film tolerances and winding tension during extrusion, always delivers the same quality & meets the food grade standards in case of food contact.
Contact us to receive more detailed info or read more about PE film here.
2. Preventive approach
Next to sharing know-how we offer you customer services giving you peace of mind. This way you can focus on your core business and meet your daily challenges and production schedules. Pattyn offers you: audits / expert visits, maintenance agreements, extended warranty agreements and service kits.
Advantages of an audit
Pattyn takes care of your equipment. During an audit your machines or complete line is thoroughly checked, evaluated and fine-tuned. Afterwards you will receive a detailed report about the condition of your line. This allows us to recommend parts that could be exchanged for maintenance purposes. Retrofits can also be suggested in order to keep up with the latest innovations.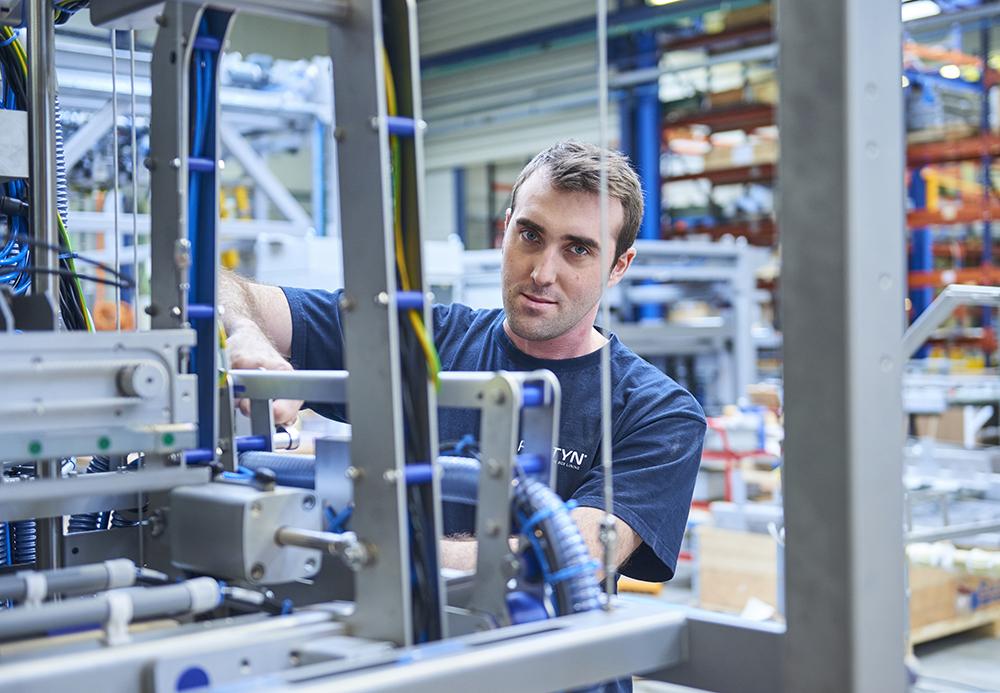 Long term benefits of a maintenance agreement
Based on the audit, the actual maintenance will be executed. During this visit we fine-tune the line, assist you to maintain your packaging equipment in an optimal condition and exchange the parts according to the offer made. This ensures a high performance level of your equipment, minimizes downtime and extends your machine life-time.
Benefits of an extended warranty agreement
The extended warranty agreement offers you the full package. On top of the extended warranty from 12 months to 24 or 36 months, this service also includes one audit and one maintenance visit per year.
Increase your uptime with our service kits
To ensure a trouble-free production and increase your uptime, we offer service kits for pro-active and preventive maintenance.
The service kits contain about 20 articles in one kit, which reduces the number of articles you need to keep in stock and the risk of missing parts.
3. Improve your equipment
Your equipment never runs "outdated".
Your machines can easily be upgraded or retrofitted with the latest technology.
Benefit from today's technology with our upgrade packages
Our R&D team is continuously working to improve the standard packaging machines. As Pattyn customer you also benefit from this latest technology. You can choose between several upgrade packages to enhance the performance, lifetime, production capacity and user experience of your current packaging machines.
Update your machine with new options
Your business changes and also your demands regarding your equipment. Machine options which were not necessary at the moment of purchase, can become crucial in a later stage for the continuity of your growth. Our Local Engineer and After Sales Manager will be happy to assist you which new options will generate added-value. For a smooth implementation of the retrofit options you rely on our qualified local service engineer.
Support
For all your questions about spare parts.
Contact us at parts@pattyn.com
All industries (BE) - T +32 50 450 488
All industries (USA) - M +1 262 326 9015
Bakery (France) - T +33 5 65 65 19 10
Parts
For all your questions about spare parts.
Contact us at parts@pattyn.com
All industries (BE) - T +32 50 450 488
All industries (USA) - M +1 262 326 9015
Bakery (France) - T +33 5 65 65 19 10